Get career ready by attending the DMUK Careers Fair 2023. Network with world leading national and international employers all under one roof.
Meet a Future employer
Don't miss out on this great opportunity to establish meaningful connections with a range of employers and be part of the unique #dmuk_careersfair
Free Admission




LARGE LOCAL
AND INTERNATIONAL COMPANIES


INDUSTRIES AND SPHERES


SPEAKERS
PARTICIPATING COMPANIES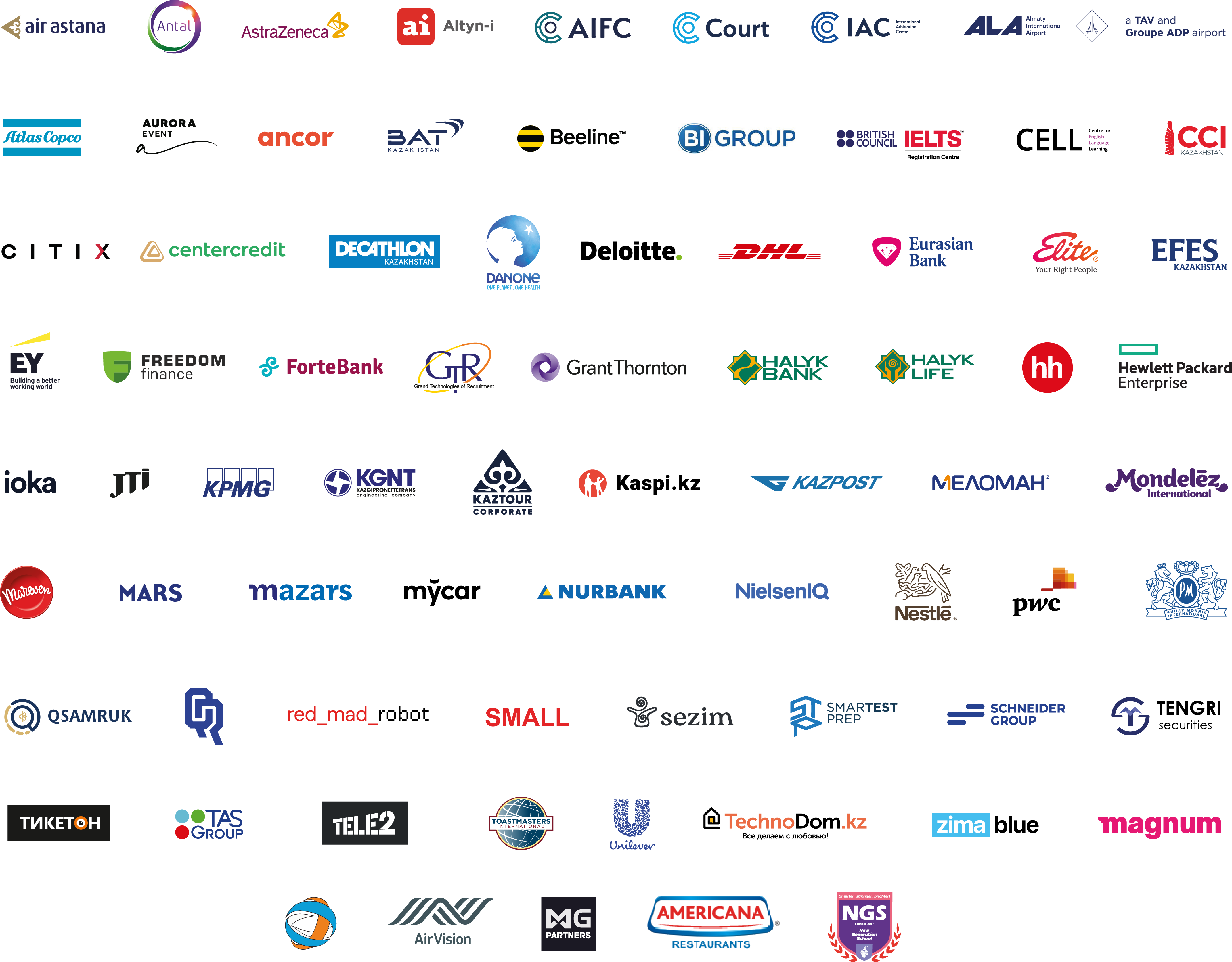 WORKSHOPS, SEMINARS

PRESENTATIONS FROM INTERNATIONAL AND KAZAKH COMPANIES

PANEL DISCUSSIONS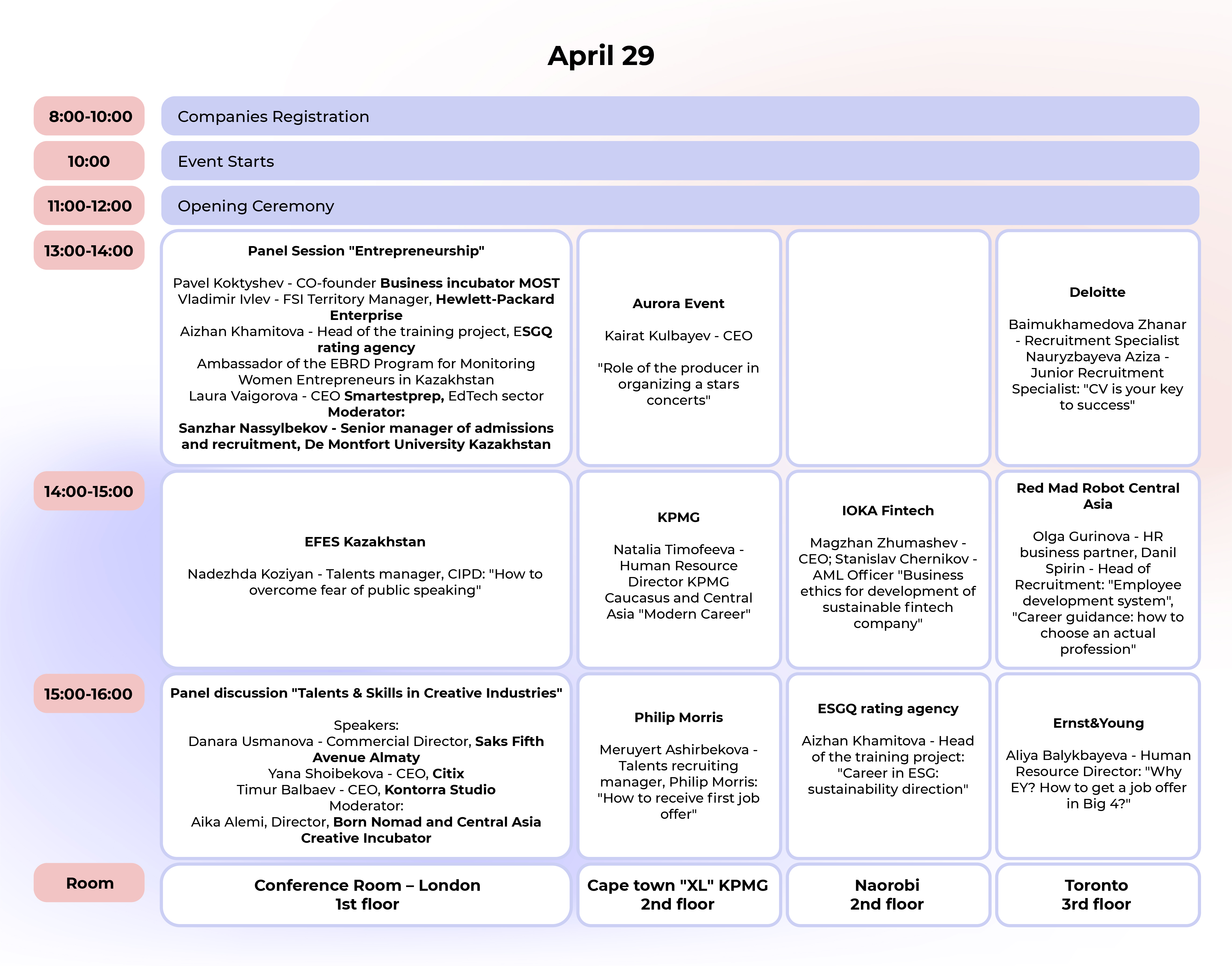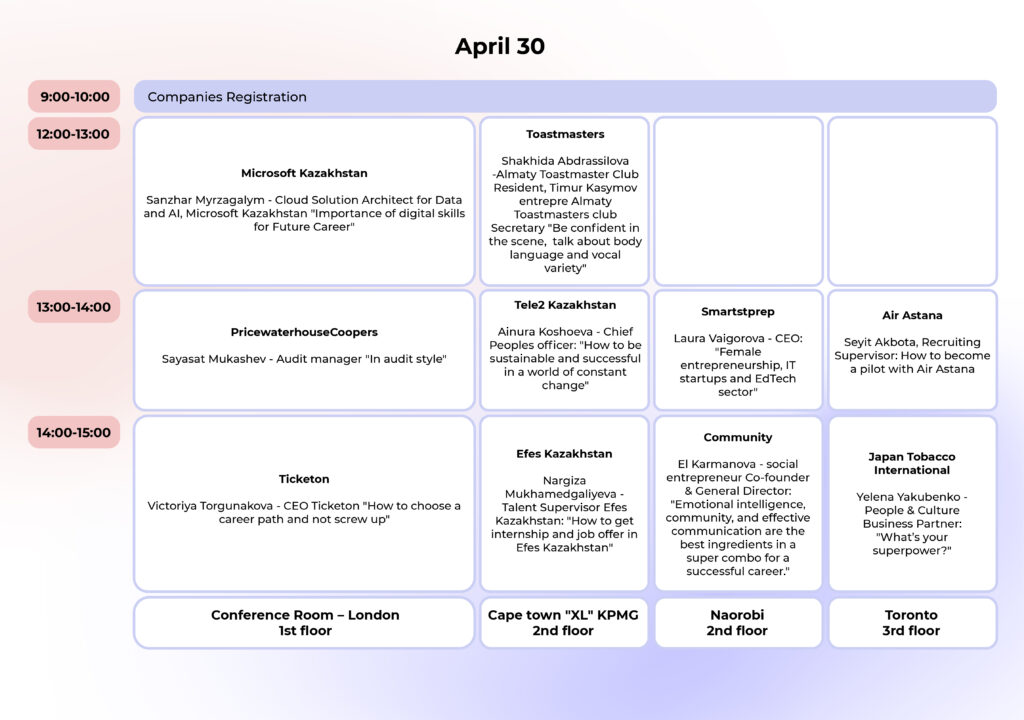 SPEAKERS


Sanzhar
Myrzagalym
Cloud Solution Architect for Data and AI,
Microsoft Kazakhstan

Natalia
Timofeeva
Human Resource Director KPMG Caucasus and Central Asia
KPMG

Vladimir
Ivlev
FSI Territory Manager
Hewlett-Packard Enterprise

Danara
Usmanova
Commercial Director
Saks Fifth Avenue Almaty

Kairat
Kulbayev
CEO
Aurora Event

Pavel
Koktyshev
CO-founder
Business Incubator MOST

Timur
Balbaev
CEO
Kontorra Studio

Aliya
Balykbayeva
Human Resource Director
Ernst & Young


Nadezhda
Koziyan
Talents manager, CIPD
Efes Kazakhstan

Nargiza
Mukhamedgaliyeva
Talent Supervisor Efes Kazakhstan
Efes Kazakhstan

Meruyert
Ashirbekova
Talents recruiting manager
Phillip Morris

Seyit
Akbota
Recruiting Supervisor
Air Astana


Stanislav
Chernikov
AML Officer
IOKA

Zhanar
Baimukhamedova
Recruitment Specialist
Deloitte

Aziza
Nauryzbayeva
Junior Recruitment Specialist
Deloitte

Olga
Gurinova
HR business partner
Red Mad Robot Central Asia

Danil
Spirin
Head of Recruitment
Red Mad Robot Central Asia

Laura
Vaigorova
CEO
Smartestprep

Shakhida
Abdrassilova
Almaty Toastmaster Club Resident
Toatmasters

Timur
Kasymov
Almaty Toastmasters club Secretary
Toatmasters

El
Karmanova
social entrepreneur Co-founder & General Director
Community
Your questions answered

What is DMUK Careers Fair 2023?

Our careers fairs will give students and young graduates the chance to network with national and international employers. It will provide a relaxed environment where you can:
Discuss graduate roles and placements
Learn about companies' recruitment processes
Check that you're developing the right work-related skills
How do I get the most out of DMUK Careers Fair 2023?

Make sure you're prepared:
Look at the list of the employers attending and prioritise who you want to speak to
Research the employers that you are interested in
Introduce yourself and be prepared to give your elevator pitch
Dress professionally as first impressions are important
Make sure you've updated your CV and have copies to hand.
Why should I attend the DMUK Careers Fair 2023?

Meet a wide range of employers in one place
Find out about job opportunities
Get tips on what recruiters are looking for
Find out when they are hiring
Discuss recruitment cycles, plans and practices
Careers fairs are very beneficial, as it gives students the opportunity to have direct access to those who can offer jobs and placement opportunities. By attending careers fairs it gives students the opportunity to talk directly with representatives from the employer, which no other recruitment method offers.
DMU Kazakhstan
Al Farabi St.120,
Building 48/49 KAZAKHSTAN
Almaty City, Medeu District

E-mail: corporate@dmuk.edu.kz

Tel: +7 727 339 0090